Summer Forum
The Task: Every year, the AARC organizes the Annual Summer Forum Conference targeted towards their leadership and educator members. This event serves as a platform for members to network, gain knowledge, and exchange ideas with fellow professionals. I was given the responsibility of designing the branding and overall visual identity for this conference.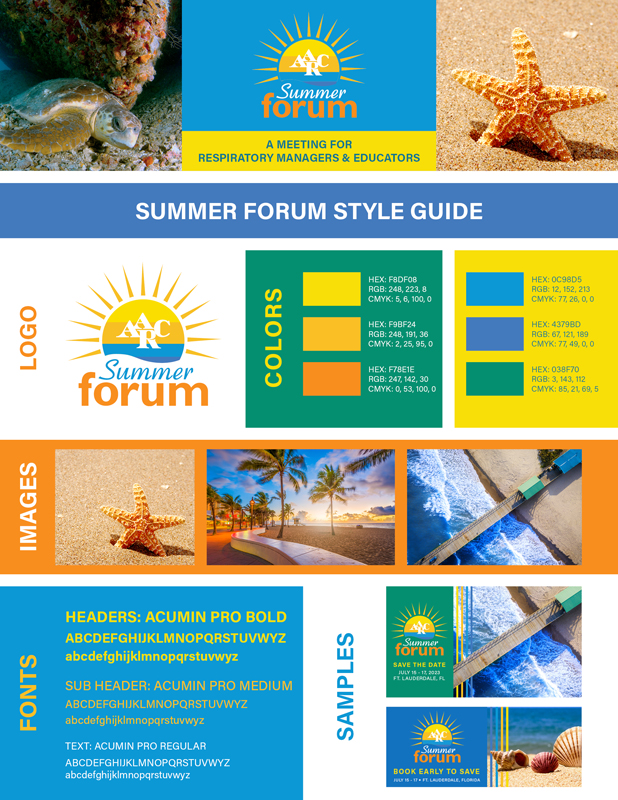 Summer Forum Style Guide
The Branding: For the 2023 Summer Forum, set to take place in Ft. Lauderdale, Florida, the Senior Graphic Designer created a logo featuring a sun with waves inside it. Drawing inspiration from this logo and the location itself, I opted for a bright, vibrant, and saturated color palette to be used across all event graphics and materials. These colors represent the summery and cool vibrancy of the location.
Another significant branding element was the incorporation of four color stripes, paying homage to the logo. These stripes are present throughout all event materials and serve as containers where text can be placed, creating an interesting and dynamic layout that maintains the vibrancy of the event's colors.
In addition, I selected lively and vibrant photography of Ft. Lauderdale, showcasing various textures such as sand, water, and shells. This choice was intended to immerse viewers in the location and inspire them to join the organization for this annual event.